INGREDIENTS
(4)

8

–

oz

pork chops

(I get my pork from ButcherBox, which I highly recommend)
kosher salt
pepper

1 tablespoon

ghee

1/4

cup

brown deli mustard

2 tablespoons

balsamic vinegar

2 tablespoons

chicken stock
Optional for sweetness: 1 tablespoon date paste for Whole30 or 1 tablespoon monk fruit for Keto, or 1 tablespoon maple syrup if it works with your diet

1

yellow onion, sliced

1

clove of garlic, grated or finely minced
Finely chopped parsley for garnish, optional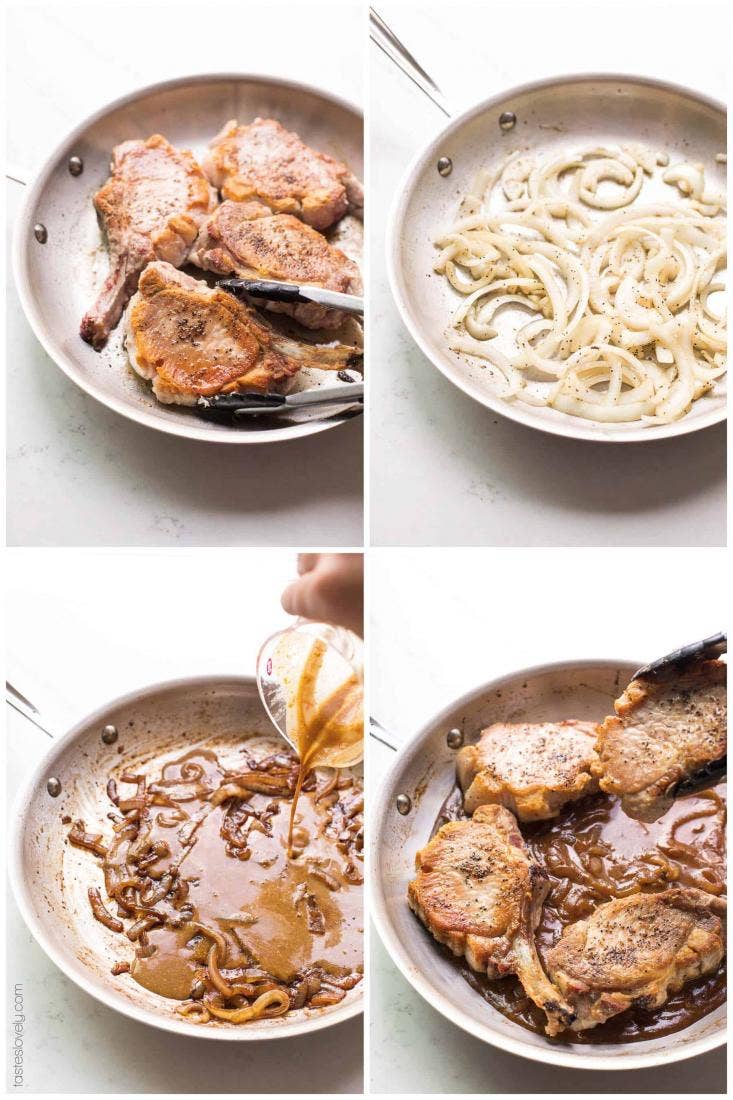 INSTRUCTIONS
Dry the pork chops completely with paper towels. Use a chefs knife to score the fat cap through to the meat several times 3/4″ apart, this prevents the pork chops from curling up as they cook. Season the pork chops generously with kosher salt and pepper.
Add the ghee to the warm skillet, and sear the pork chops for 5-7 minutes, until crispy and golden brown. Flip, and continue cooking on all sides (even the edges! The fat cap tastes so good when it's been seared off and caramelized!) until the pork chops have an internal temperature of 145ºF, roughly another 7-10 minutes. Remove the pork chops from the skillet and transfer them to a plate to rest.
To the same skillet over medium heat, add the onions and garlic. Season with kosher salt and pepper. Cook until the onions are soft, stirring frequently, about 5-7 minutes.
While the onions are cooking, in a measuring cup combine the mustard, balsamic vinegar and chicken stock (and date paste/monk fruit/maple syrup if using). Pour the sauce over the onions once the onions are soft and translucent. Stir to combine, and heat the sauce for just 30 seconds over medium heat.
Turn off the heat, and add the pork chops back to the skillet. Spoon the sauce over the pork chops. Serve warm.
This is great with some mashed cauliflower and roasted brussels sprouts.
Leftovers will keep refrigerated in an airtight container for 5 days.
Meat: If you can get your hands on bone in pork chops, those are my favorite because they have even more flavor. Boneless work too! This recipe would also be great with chicken breasts or chicken thighs!
Balsamic Vinegar: If you're out of balsamic vinegar, apple cider vinegar would be a fun substitute. Same quantity.
Mustard: I love using brown deli mustard, but you could also use dijon mustard or a grainy mustard. Same quantity for all substitutions.
Cooking Oil: I love using ghee, but you could also use olive oil, avocado oil, or coconut oil. Same quantity for all substitutions.
Onion: I prefer yellow onion, but a white onion, red onion or even shallots would work too.
Reheating: You can reheat in the microwave until warm, or reheat in a skillet until warm.