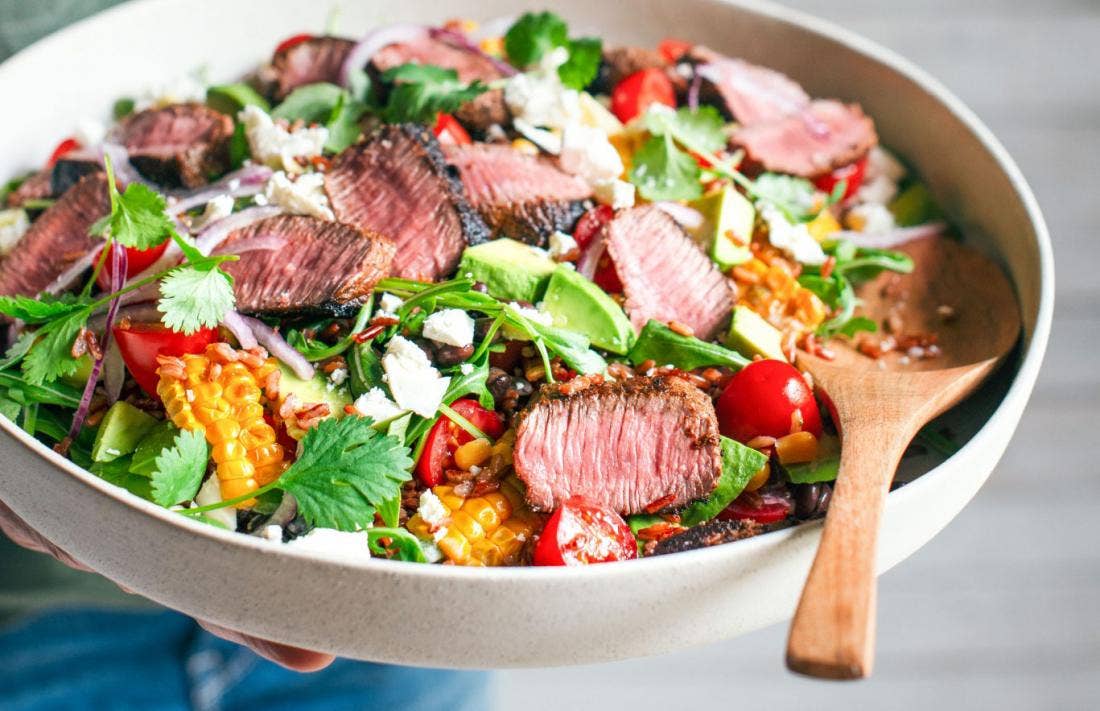 Have you seen our new range of Roaring Forties lamb in stores? Make a refreshing spicy lamb salad with fresh lamb, our wide selection of salad greens capsicum, juicy tomatoes and feta cheese!
Ingredients
1 1/2 cups red cargo rice (or brown rice)
2 tbsp + 1 tsp olive oil
finely grated zest of a lime
sea salt and freshly ground black pepper
1 pack Lamb Loin Fillets
1 tsp ground cumin
1 tsp chipotle
3 cobs corn
2 cup wild rocket leaves
black beans, drained
2 avocados, halved and chopped
2 cups chopped cherry tomatoes
1 green capsicum, finely chopped
200grams feta, crumbled (reserve some for garnish)
1 red chilli, finely sliced (reserve some for garnish)
1 cup coriander leaves, picked (reserve some for garnish)
1/2 red onion, finely sliced
Directions
1. Cook the rice according to the packet instructions and drain well. Rinse through with water, drain again for 5 minutes then tip into an airtight container.
2. Stir through 1 teaspoon of olive oil, a sprinkle of sea salt and the zest of a lime. Leave to cool, refrigerating, covered up to overnight. Put the lamb loins in a ziplock bag with 1 tablespoon of olive oil, cumin and chipotle.
3. Massage the spic and oil mix into the meat and leave to marinate for 6 hours or up to overnight. Remove the lamb from the fridge. Put the corn into a pot of rapidly boiling water and cook for 10 minutes. Drain well.
4. Brush the cobs well with the remaining olive oil and fry in a hot pan for a few minutes on each side until lightly blackened. Set aside to cool. Cut the corn off the cobs in strips. Heat a frypan to medium-hot and sear the lamb fillets for 3 minutes on each side then set aside to rest for 5 minutes.
5. Toss the rice with the salad greens, corn, black beans, avocados, tomatoes, capsicum, feta, chilli and coriander.
6. Angle slice lamb fillets and dot into the salad. Drizzle with dressing and top with finely sliced red onion, reserved garnishes and 2 tablespoons of nut topping.