CHRISTMAS CRACKLING PORCHETTA
Servings 4-6 | Prep Time 45mins
Recipe
2kg Porchetta Rolled in Herbs & Spices
60g Kosher Salt
INSTRUCTIONS:
Dap dry the skin of the pork belly to remove liquid and moisture.
With a sharp knife, run through the belly skin for some checkers scoring. Do note not to pierce too deep into the skin. This step is important to allow the skin to be exposed. (Our Butcher at Little Farms will get this process sorted out for you)
Next, lay the porchetta onto a wire rack, sit on a baking tray, and start to sprinkle sparingly with salt all over the porchetta skin. Ensure that all parts of the skin are covered.
Allow the porchetta to sit in ambient temperature for 30mins and let the salt draw out as much moisture as possible (do not be afraid to over sprinkle the salt, as we will knock off all the salt after the roasting process completes).
Pre-heat your oven for top and bottom heat to 230 - 240 Celsius.
Put in the porchetta into the oven for 15 - 20mins at a high temperature of 240 Celsius. This process is the most important process as we are bursting the pork skin fat and creating a crispy skin bark.
After the 15mins bursting, you should see the skin of the porchetta turning light golden brown and the skin will start to burst with the fat oozing out continuously. At this point, turn down the oven temperature to 180 Celsius and finish the roasting process for 20 - 30mins.
Take out the porchetta and allow to rest for 20 -3 0mins. Do not try to cut the porchetta when it is still piping hot from the oven. The crispy skin will not hold and it will start to break and crumble apart.
After resting, slice the porchetta to 1 – 2 inches thick and serve!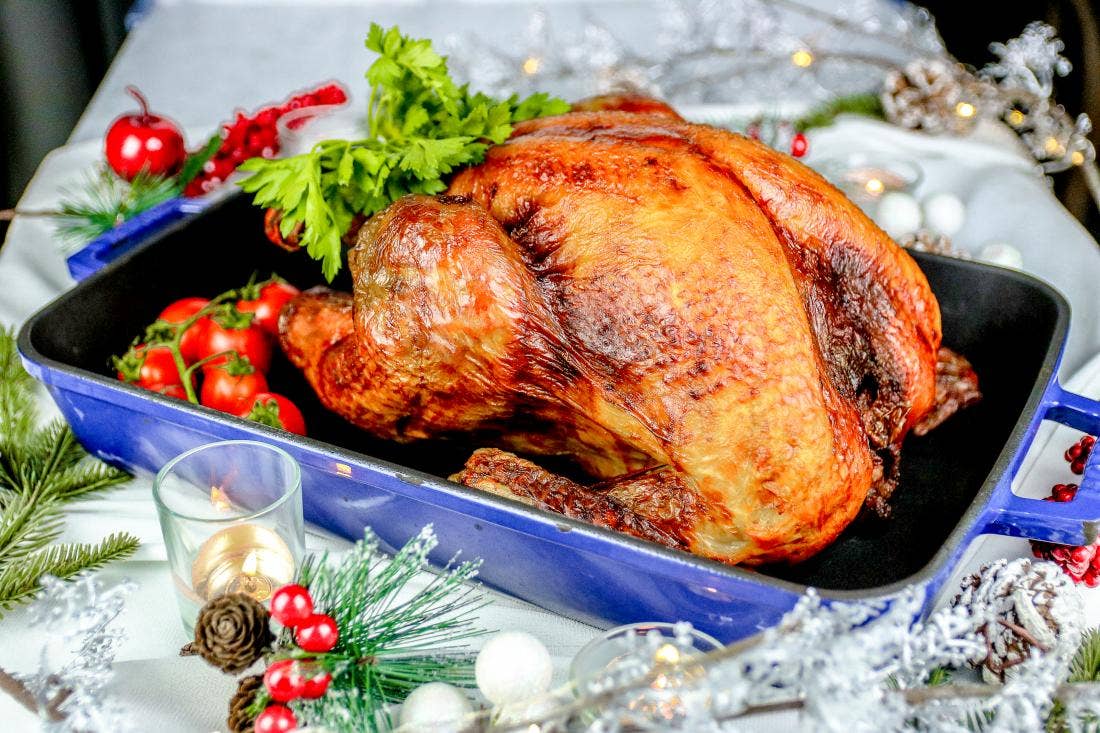 TRADITIONAL WHOLE ROASTED TURKEY
Servings 4-6 | Prep Time 3 hours
Recipe
5kg Whole Turkey (Pre-Brined Butterball)
100g Roast Rub – Little Farms Retail
250g House Glaze – Little Farms Recipe
INSTRUCTIONS:
Dap dry the Whole Turkey and remove all additional fat. Rub the Turkey on all sides with some olive oil. Ensure all corners of the turkey are covered.
Assemble the turkey on a roasting pan. You can chop up carrots, celery and onions to put below the roasting pan. This will help to give some nice flavors during the roasting process.
Add some white wine or water into the roasting pan to help to give moisture during the long process.
Pre-heat the oven to 180C, and roast the turkey for 1.5hours. Brush and bast the turkey with the house glaze during the last 30mins of the roasting process.
Turn up the oven heat to 200C to finish off for another 15mins for nice golden-brown color.
Finally, glaze the turkey another round and allow to rest for 20mins.
Now the turkey is ready to carve and serve!

SOUS VIDE TURKEY BREAST ROULADE WITH MUSHROOM & CHESTNUT
STUFFING
Servings 4-6 | Prep Time 35mins | Total Time 50mins
Recipe
2-2.5kg Sous Vide Turkey Roulade
200g House Glaze – Little Farms Recipe
INSTRUCTIONS:
The roulade has already been cooked.(This is a preparation that involves a vacuum sealed roulade that is slowly cooked in temperature controlled water, which helps to contain the juice of the Turkey Breast. Please keep the Turkey Roulade in the chiller for storage. When you need to cook, put the packet under ambient temperature before reheating.)
To cook & reheat the roulade. Take the sealed packet of roulade and submerge into a pot of water over gentle heat. We recommend 70-80Degree. Allow the roulade to be brought to warm temperature if you just brought it out from the fridge. We recommend this step to avoid the center of the roulade still being cold if the packet is just out from the chiller.
Unpack the roulade from the vacuum bag and assemble it on a roasting pan. Glaze the roulade with Little Farms house glaze in 10-minute intervals using a brush.
Preheat the oven to 180 - 190C. Roast the roulade for 10 – 15 mins, and keep basting it with the house glaze for nice coating over all sides of the roulade.
Allow the roulade to rest for 10 minutes, and then it's ready to carve & serve!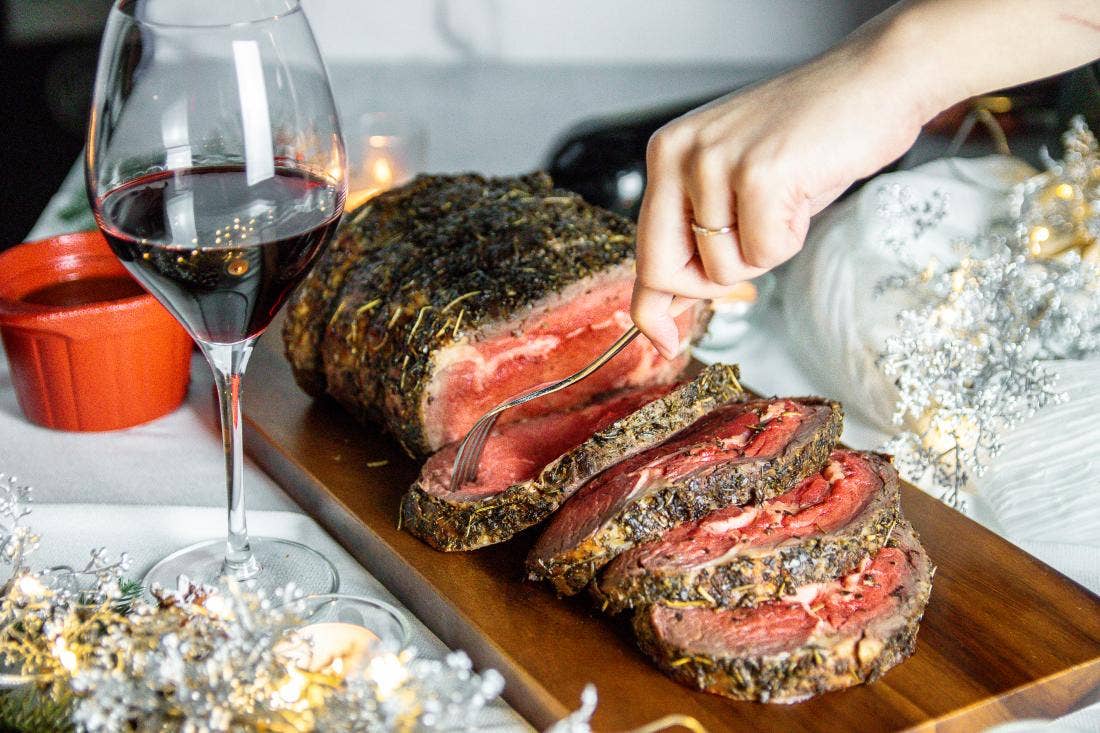 OVEN ROASTED KING ISLAND BEEF RIBEYE
Servings 4-6 | Prep Time 35mins | Total Time 60mins
Recipe
1.5k g King Island Ribeye
20g Kosher Salt
10g Crushed Black Pepper
15g Rosemary
15g Thyme
INSTRUCTIONS:
Get our friendly butcher to twine the cut for you. This method will help you to achieve a more consistent roasting result (keep the twine on during the roasting process, cut up the twine before carving).
Season the beef with chop herbs and any seasoning of your choice.
Preheat the oven to 200C.
If you have a large pan, pre seared the beef on all sides to achieve a good seal for the meat.
Then assemble the beef roast on a roasting rack, sitting on a baking tray with some water.
Put into the oven to roast for 60 mins for rare, 75 mins for medium and 90mins for well done.
Allow the meat to rest for 20 – 30 mins, loosely covered with aluminum foil.
Carve and serve when ready!
Chef's Tips – the residue on the roasting pan is all the juice from the beef. Deglaze some red wine on the roasting pan, bring to a reduction and add in some flour and butter for light thickening and strain. You get a fast and quick pan jus just using the residue from the roasting process.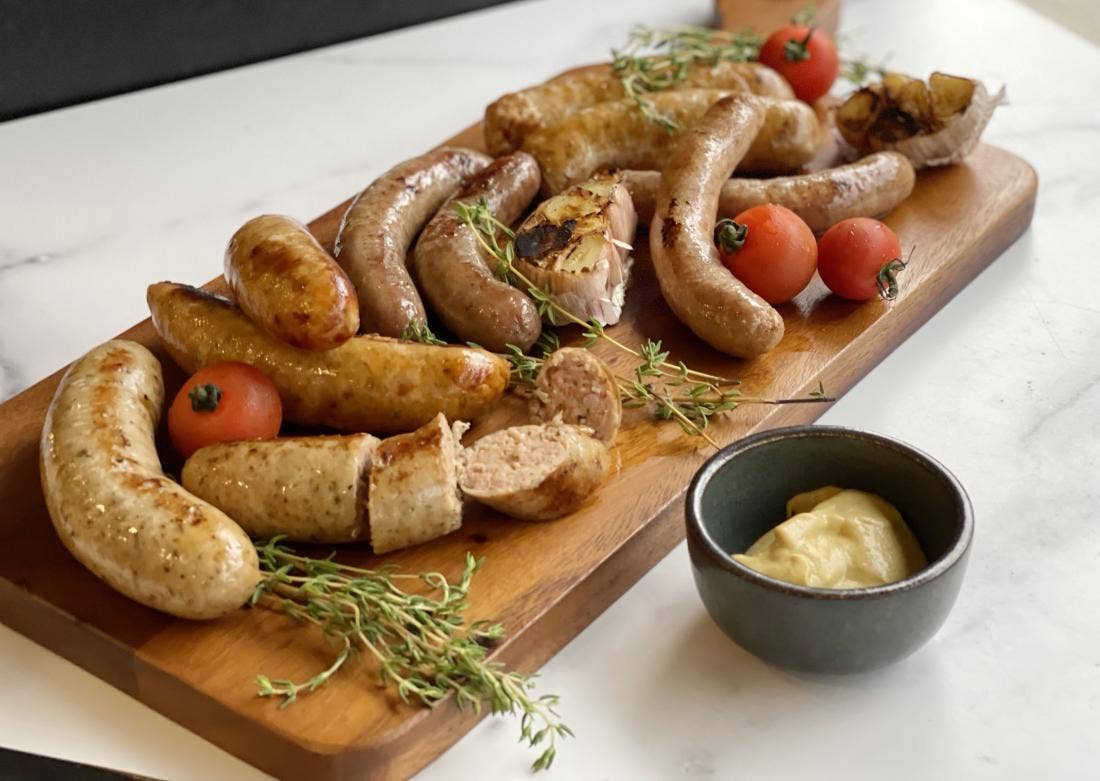 FESTIVE SAUSAGES
Servings 4-6 | Prep Time 10mins | Total Time 15mins
Recipe
1000g Pork or Beef Sausages
INSTRUCTIONS:
Pan seared the sausages on all sides until there is a nice darker color.
Assemble the sausages on a baking tray.
Roast the sausage in a pre-heat oven at 180C for 7 mins to cook through. Alternatively, you might wish to cook it over the pan at slow heat for 15- 20 mins.
Serve when ready!
MUSHROOM & CHESTNUT STUFFING
Servings 4-6 | Prep Time 35mins | Total Time 50mins
Chef's Tips: Add a little water or meat broth into the pan to provide good moisture during the cooking process, it will help eliminate drying or bursting of the sausage casing.
https://littlefarms.com/blog/our-guide-to-cooking-our-butcher-christmas-items/TNUT STUFFING
Servings 4-6 | Prep Time 35mins | Total Time 50mins
Recipe
500g All Natural Fresh Chicken Thigh
500g Turkey Breast – Little Farms Butcher
150g Button Mushrooms
50g Dried Trumpet Mushroom
50g Dried Porcini Mushroom
200g Chestnut Peeled
30g Toasted Walnut
80g Gluten-free Breadcrumbs
15g Flat Leaf Parsley
INSTRUCTIONS:
Soak the 2 types of dried mushrooms for 3 days to allow time for the mushrooms to absorb moisture and soften. Drain the mushroom and keep the water for other usages (eg. for mushroom soup).
Roughly chopped up the mushrooms and chestnuts. Slice up the button mushrooms.
Roughly chop up the parsley and set it aside for later use.
Using a deep pan, sauteed the mushrooms with some olive oil, season to taste and allow to cool down.
Using a mincer or meat blender, mince the Chicken Thigh and Turkey Breast to a fine mince. Keep the mince very chill during the mincing process in order to avoid deterioration of the meat.
Roast the chestnuts and walnuts in the oven over 160C for nice color and fragrance, and cool down.
Combine all the above ingredients and mix well, add in the gluten free breadcrumbs to act as a binder to hold the mixture together firmly. Adjust the seasoning to taste. Take a small portion of the mixture to cook to check the seasoning and taste.
With a cling film, roll the stuffing mixture in portions of 500g/roll. Wrap it in few rounds before tightening both sides into a knot.
If you have a vacuum pack machine at home, vacuum seal the roulade in a vacuum bag. Alternatively, you can use a ziplock bag to seal it. Poach the stuffing in a pot of water for 45 mins over slow temperature. Re-fresh in ice water and set aside.
Alternatively, you might like to use this stuffing mixture to stuff into the turkey and allow the mixture to be cooked with the turkey.
Serve when ready and enjoy!
LITTLE FARMS HOUSE GLAZE
Servings 4-6 | Prep Time 15mins | Total Time 15mins
Recipe
500g Maple Syrup (Little Farms Retail – Great Harvest)
250g White Balsamic Vinegar (Little Farms Retail)
150g Honey (Little Farms Retail)
100g Amaretto Liquor/ Whisky (Optional)
INSTRUCTIONS:
Combine all the ingredients and cook over the stove on a deep shallow pot at slow flame.
Beware of the glaze getting burnt, stir the mixture from time to time until the sauce become a thick consistency. Cool down the mixture and it's ready to use for glazing. Use this beautiful glaze on all kinds of roast meat during this festive season.
EASY CARVED LAMB LEG
Servings 4-6 | Prep Time 35mins | Total Time 50mins
Recipe
1.5kg Lamb Leg – Little Farms Butcher (Fore Shank Bone is
Removed for ease of carving)
1 tsp sweet paprika
1 tsp spicy paprika
1 tsp cumin
1 tsp black pepper
2 tsp salt
1 tsp rosemary chopped
1 tsp thyme chopped
1 clove garlic crushed
Basting Liquid
1 tsp wholegrain mustard
2 tbsp Olive Oil
1 garlic clove crushed
2 tbsp lemon juice
1 tbsp honey
salt
pepper
Dressing Liquid
1 tbsp Olive Oil
1 tbsp lemon juice
1 tbsp parsley chopped
salt
pepper
INSTRUCTIONS:
Using a sharp knife, score the lamb in multiple places.
Mix all the ingredients together and rub into the lamb.
Leave lamb covered in the fridge for minimum of 1 hour, but overnight if possible.
Heat BBQ or oven to 180C and cook lamb covered gently in foil for 30 mins on indirect heat if using BBQ.
After 30 mins, uncover the lamb and cook for a further 30 mins, basting twice during this time.
Once lamb is cooked to an internal temperature of 54c (for medium rare), remove from the BBQ and cover gently with foil and allow to rest for 10 mins.
Once rested, baste it with the dressing, and serve.
Try serving this with a nice green salad and maybe some grilled asparagus from our Little Farms fresh produce section.
Chef's Tips: The longer you leave the lamb marinate the more it will absorb the flavors, so try rub it a day in advance. A general rule when cooking lamb is 20-25 mins per 500g for rare and 25-30 mins for medium - medium rare. Don't forget to let your meat rest, and if you're cooking on a BBQ then make sure you cook using indirect heat (this means lighting one side of the BBQ and placing the meat on the opposite side).

BONELESS LAMB SHOULDER WITH ARTISANAL STUFFING
Servings 4-6 | Prep Time 35mins | Total Time 50mins
Recipe
1.3kg Lamb Shoulder – Little Farms Butcher (Bones removed
& stuffing rub is applied)
50g Fresh Herbs (Rosemary, Thyme)
INSTRUCTIONS:
Preheat the oven to 180 - 190°C, 350 - 375°F, Gas Mark 4 - 5.
Place the joint on a chopping board and season on both sides with salt, pepper and ground cinnamon. Spread the stuffing mixture evenly over the joint, but do not over fill. Roll up and secure with butcher's string or elasticated meat bands.
Place the joint on a metal rack in a large non-stick roasting tin, and drizzle with some olive oil. Cover and roast in a preheated oven for the preferred, calculated cooking time. Shape any remaining stuffing into small balls and roast separately in the oven for 15 - 20 minutes.
Serve the lamb with your favourite sides like crushed potatoes, roasted butternut squash and seasonal vegetables.
Chef Tips: Use any bone-in lamb joint and cook the stuffing separately.

ROASTED BOSTON BIRD WITH HONEY PISTACHIO STUFFING
Servings 4-6 | Prep Time 35mins | Total Time 50mins
Recipe
2.6kg Boston Bird
(The inside carcass of the bird has been removed for
easy preparation, stuffing applied inside, roast the bird
with the butcher twine intact to assist holding up the bird
during cooking)
INSTRUCTIONS:
Remove your stuffed chicken from the fridge, pat dry & bring to room temperature leaving ties in place.
Preheat your oven to 180°C for fan assisted or 200°C for ovens without a fan (gas 6).
Season the bird with good quality sea salt & brush liberally with melted butter just prior to cooking.
Place in the centre of the oven skin side up and roast for approximately 1 hour 15 minutes, reaching a core temperature of 65°C before resting.
Remove from the oven & keep warm by covering with a sheet of foil.
Rest for a minimum of 20 minutes before removing ties & carving.
Enjoy!

GLAZED BAROSSA HAM LEG
Servings 4-6 | Prep Time 35mins | Total Time 60mins
Recipe
8-9kg Bone-in Christmas Ham
500g Pineapple
15g Cloves
200g House Glaze – Ingredients from LF Retail
INSTRUCTIONS:
Preheat oven to 160°C. Line a large roasting pan with baking paper. Position on the lowest shelf in the oven and remove other shelves. Remove rind from ham by gently running your thumb between the rind and fat of ham. Carefully pull back the rind to expose the fat. Cut rind off at shank, leaving the fat.
Using a small, sharp knife, score ham fat in a diamond pattern about 5mm deep. Take care not to cut into the meat. Push a clove into the center of each diamond. Combine sugar and cranberry sauce in a bowl. Thickly brush mixture over ham. Place ham in prepared pan
Bake for 15-20 minutes. Brush again with mixture. Return to oven for further 30 - 35 minutes until golden. Remove from oven and transfer to a large serving platter.
To carve, hold the shank firmly in one hand, while you carve the slices from the ham with a sharp carving knife. Lay ham slices onto a serving platter. Note: Cloves add a subtle flavor and are also decorative.
Enjoy!
ROASTED PORK RACK
Servings 4-6 | Prep Time 35mins | Total Time 50mins
Recipe
3kg rack of pork , chined (see tip), French trimmed
(ask your butcher to give you the trim), skin scored,
not tied
1 tbsp sea salt , ground to a powder
For the stuffing
1 tbsp olive oil
1 onion , finely chopped
2 thyme sprigs , leaves picked
slice of sourdough , crust removed, torn into little pieces
½ tsp fennel seeds
½ tsp coriander seeds
½ tsp chilli flakes
the trim from the pork , minced (or use 400g pork mince)
nutmeg , for grating
zest ½ lemon
1 tbsp chopped flat-leaf parsley
70g wild garlic , chopped (see tip)
1 egg
INSTRUCTIONS:
In the morning before you cook the pork, use a very sharp knife (or ask the butcher) to cut a deep flap under the skin and fat of the meat, all the way along the rack – be sure to leave at least 5cm connected. Rub the powdered sea salt all over the flesh (not the skin), then leave uncovered in the fridge for at least 2 hrs. Take out of the fridge 30 mins before you want to cook it, to come to room temperature. Heat oven to 240C/220C fan/gas 9.
Meanwhile, start to make the stuffing. Heat the olive oil in a frying pan. Add the onion, a pinch of sea salt and black pepper, and the thyme leaves. Cook over a low heat, stirring, until the onion has softened, about 10 mins. Add the sourdough 2 mins before the end. Remove from the heat and transfer the mix to a bowl.
In a dry frying pan, toast the fennel and coriander seeds and chilli flakes over a high heat for 1-2 mins. Allow to cool, then use a pestle and mortar to grind with a pinch of sea salt.
Add the ground spices to the onion mixture and mix with the pork trim. Season again, grate in some nutmeg to taste, and add the lemon zest, parsley and wild garlic. Mix everything together with your hands to thoroughly combine, then add the egg and mix again.
Press the stuffing into the flap in the pork and tie up with string all the way along to hold the stuffing in. Use foil to cover any exposed stuffing, as it will burn in the hot oven. Place the joint on a baking tray.
Cook the pork for 20 mins per 450g – so 2 hrs 20 mins for a joint this size. Start it off on 240C/220C fan/gas 9 for 20 mins, then reduce the heat to 200C/180C fan/gas 6 and cook for 2 hrs. Turn it halfway through to ensure it's cooking evenly and test it 10 mins before the end with a temperature probe. When the core reads 70C, it's cooked. Wrap the pork in foil and leave to rest while you prepare your side dishes.
Serve when ready and enjoy!
HONEY PISTACHIO STUFFING
(This recipe is applied to the Boston Bird)
Servings 4-6 | Prep Time 35mins | Total Time 50mins
Recipe
280g Manuka Honey – Little Farms
500g Gluten Free Bead Crumbs
200g Pistachio Nut – Little Farms
20g Kosher Salt
10g Pepper
10g Garlic
1kg Chicken Leg
INSTRUCTIONS:
Lightly roast the pistachio nuts in an oven for 20 mins over 160C.
Grind the chicken leg in a food processor until minced (you can add a few pieces of ice cube into the blender to ease the friction and blending process).
Combine all the other ingredients and give it a final mix.
Set aside and apply to your festive roast when ready.